iPhone 6 may feature curved glass and curved edges
34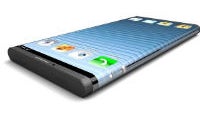 The rumor mill around the Apple iPhone 6 won't be slowing down until Apple decides to give us some actual information on the device. The rumors have been consistent enough, that we are pretty sure the phone will feature a 4.7-inch display, but a new rumor is talking more about the design, and the possibility of curves.
The smart money for the iPhone 6 has been on the idea that Apple would be performing a fairly major redesign of the device, which is somewhat standard operating procedure for Apple every two years. Now, a report from Japanese blog
Mac Otakara
is claiming that the iPhone 6 will feature curved edges, which have been likened to those on the Samsung Galaxy S III, or the Squair bumper case pictured below. That kind of description also makes it sound like the edges may be somewhat similar in shape to the iPhone 3G/3Gs.
The report also says that there is a chance that Apple will use curved glass on top of the display, but unfortunately that part of the rumor isn't as interesting as it sounds. The rumor claims that Apple won't be using curved glass in the way the LG G Flex or the Samsung Galaxy Round did, but rather in curving the edges of the display in order that it would sit flush with the chassis.