iPhone 5 headed to Cricket, to launch on September 28
15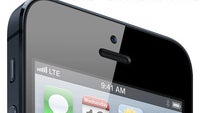 AT&T, Verizon, and Sprint won't be the only U.S. carriers that you'll be able to get an iPhone 5 from. Cricket just announced that it is hopping on the bandwagon too and will be offering the iPhone 5 starting September 28, which is a week after the smartphone is scheduled to launch via the big boys.
As you might expect, the iPhone 5 will be available in a pay-as-you-go fashion, so a long term commitment will not be required. Sounds cool, but the rather steep price for the device itself is the trade-off that has to be considered. Pricing has not been announced yet, but it is speculated that a Cricket iPhone 5 with 16GB of storage will be priced at $499, just like what an
iPhone 4S
was priced at upon launching with the carrier. As far as the latter smartphone is concerned, Cricket will most likely continue offering it at a lower price, presumably around $399.
There is no iPhone 5 pre-order being mentioned in the press release, which leads us to believe that starting September 28, you'll have to visit a Cricket outlet in order to get a pre-paid iPhone 5. Alternatively, you might want to keep an eye on the carrier's web page for any iPhone 5 updates.
Cricket to Offer iPhone 5
SAN DIEGO, Sept. 13, 2012 /PRNewswire/ -- Cricket Communications, a leading provider of innovative and value-driven wireless services, and a wholly-owned subsidiary of Leap Wireless International, Inc. (NASDAQ: LEAP), today announced it will offer iPhone 5, the thinnest and lightest iPhone ever, to customers in select Cricket markets in the U.S. beginning Friday, September 28. For more information please visit: www.mycricket.com/iphone5. For more information on iPhone 5, please visit: www.apple.com/iphone.
About Cricket
Cricket is the pioneer and leader in delivering innovative value-rich prepaid wireless services with no long-term contracts serving approximately 6 million customers. Cricket offers wireless voice and mobile data services over the latest, high-quality, all-digital 4G (LTE) and 3G CDMA wireless networks. In 2011, Cricket launched its award-winning Muve Music® product, the first music service designed for a wireless phone that now has more than 600,000 customers. Cricket's innovative products and services are available at Cricket branded retail stores, dealers, national retailers and at www.mycricket.com. For more information about Cricket, please visit www.mycricket.com.