iPads in hospitals improve patient care, physician training
11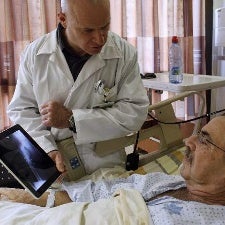 Back in November 2010, an interesting experiment took place - researchers handed
115 iPads to medicine residents
of the University of Chicago. This gave the physicians the capability to go into the hospital's system to order tests, then to access electronic patient records, and look up medical publications for reference information.
More than a year later, the
residents love it
. Three out of four of them found they were finishing tasks faster with the iPad as it freed up time for direct face-to-face time with patients, and allowed them to participate more in educational trainings.
The cost? Each iPad came at about $650 counting the insurance, covers, straps and software the hospital purchased along with each tablet. The whole affair was secure - the patient records were not stored, only accessed on the network and the tablets were password protected.
Here's what most of the residents used their iPads for:
- 90% reported routinely using it for clinical duties
- 78% said it helped them be more efficient
- 68% mentioned it prevented patient care delays.
Interestingly, introducing computers and electronic health records only slowed down doctors and they found less time for patients themselves, something that the iPads helped deal with. The iPad also helped streamline the lengthy process of completing documentation and updating patient records.
"We were encouraged to see that this technology could enhance patient care in the setting of restricted resident duty hours,"
chief resident Dr. Christopher Chapman summed up.