iPad blows past 100,000 tablet apps available, Apple to dethrone HP as top mobile computer maker
12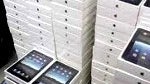 The year and change old Apple iPad effort still holds the lion's share of its self-created tablet market. Besides the hardware virtues, Cupertino's success in the slate business is undeniably ought to the fusion with available software.
Apple's iPad head start of a year before any meaningful amount of competition was introduced just transformed into 100 000 apps strong that are compatible with the bigger 9.7" display. Now, not many of those are meaningful, and even less are dual-core optimized for the new
iPad 2
, but with so many there won't be a shortage of interest any time soon.
As if to prove the above, industry analysts claim that Apple is about to topple HP as mobile computer maker in 2012. Analysts expect Cupertino to sell 15 million MacBooks and 60 million iPads next year, which would account for 25-30% of the portable computer market next year. HP is expected to ship 45-50 million in that period.
Actually,
Apple already beat HP
, for the first time in Q4 of last year, when thanks to the holiday season it shipped 10.2 million portables in total, while HP scored 9.3 million. Sign of the times.
via
TUAW
&
Electronista