Apple walked over HP last quarter to become the largest mobile computer maker in the world
6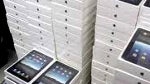 Now who would have predicted that just a year ago. It's a tiny statistics tidbit that shows how the computer industry is really changing with a disruptive pace.
Thanks to booming iPad sales, Apple overtook traditional PC industry juggernaut HP to become the largest manufacturer of mobile computers with 10.2 million sold, 17.2% of the market, in Q4 of 2010.
The second HP sold 9.3 million mobile PCs, 15.6% of the market, then we have Acer with 8.4 million, then Dell and Toshiba. With more than 50 new tablets to appear this year, including HP's own
TouchPad
, it might be hard for Apple to maintain the lead, but the
iPad 2
is just around the corner, and we are hearing about a
third iPad
due for September - October introduction to keep the pace going.
source:
DisplaySearch
via
9to5Mac