iOS 5.1 beta seeded to devs, hints at new iPad and iPhone model
11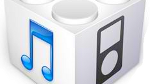 A couple weeks ago, we had heard that Apple was working on
two new updates
for iOS 5 - iOS 5.0.2 which would continue the fight against battery issues, and iOS 5.1 which would add commands to Siri. iOS 5.1 has begun being seeded to developers and although we don't yet know exactly what changes it brings, it does contain code that hints to a new iPad 2 model on the way.
Last we heard, iOS 5.1 would include new Siri commands to toggle settings like WiFi or Bluetooth, as well as commands to take a picture or record video. We're not sure if that is in this update yet, but we would assume it includes more fixes for the
battery issues
that have been reported by some iPhone users. Still, we do know that the update does include code referencing a new iPad model.

As is customary with Apple, the best way to learn about new devices is to check the models referenced in the code. The code for iOS 5.1 lists an "iPad 2,4". This is obviously a new iPad 2 model and not an entirely new iPad 3, which would have been referenced as "iPad 3,1". The early buzz is that this could be a new 3G model for Sprint, but that's just a rumor. There is also a rumor that it is actually an LTE variant for Sprint, but we find that somewhat ridiculous seeing as Sprint doesn't even have an LTE network yet, and won't until mid 2012. It also seems unlikely that Apple would release a 4G iPad on Sprint before any other carriers.
The code also reveals an "iPhone 5,1". This doesn't point to any imminent release, nor does it prove the device will actually be called the iPhone 5, although that does seem most likely. This code simply refers to the first release of a 5th generation iPhone with different internal components from the iPhone 4S. This does lend more support to the rumor that Apple will be using the A6 processor in the next iPhone, but that's about all.
We'll let you know more about the iOS 5.1 update as it comes out.
source: 9 to 5 Mac
1
&
2
&
3