The Garmin Vivoactive 3 smartwatch is an excellent bargain at $175 (brand-new with warranty)
5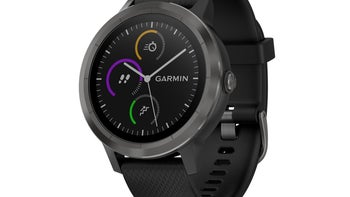 If you're in the market for a nice and robust Android and iOS-compatible smartwatch with a reasonable price point, you might be having a hard time choosing from several decent models made by the likes of Samsung, Fitbit, and Garmin. Frequent deals offered by all three manufacturers and various authorized third-party retailers are likely to further complicate your decision, although it's definitely cool to have so many affordable options.
For instance, the "regular" Garmin Vivoactive 3 follows in the footsteps of the
Vivoactive 3 Music
today by hitting a new all-time low price of its own. Since this particular variant is not capable of downloading and playing your favorite tunes by itself, it's obviously a little cheaper than the music-supporting model, at $174.79. Normally, the smartwatch costs $249.99, so you're looking at hefty savings of around 75 bucks by shopping on eBay right now.
Fret not, as you won't have to deal with just any obscure eBay seller, but rather an authorized Garmin retailer with 98.6 percent positive feedback that can also throw in a full 1-year warranty at no extra charge. Your 175 bucks will naturally get you a brand-new, unused, unopened, and undamaged Vivoactive 3 sold in its original packaging in black or white colors. Said paint jobs only apply to the silicone strap, mind you, while the actual hardware comes in a single silver stainless steel flavor. Unfortunately, the gunmetal model paired with a black band is already listed as out of stock, suggesting pretty strong demand for this substantially marked-down wearable device.
That very well should be the case too, as the Vivoactive 3 comes with a long list of respectable features, including everything from built-in GPS support to heart rate monitoring capabilities, wrist payment functionality, a large and relatively sharp 1.2-inch display sporting 240 x 240
pixel
resolution, up to 7 days of battery life (with the GPS deactivated), top-notch water resistance, and some of the most advanced activity tracking technology available today.