Best Buy makes it easy to purchase the Razer Phone 2 for a lower than ever $650 ($150 off)
2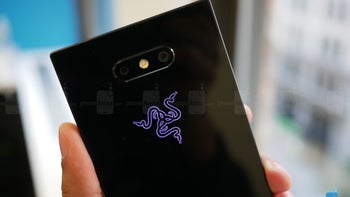 The second edition of
Razer's unrivaled gaming smartphone
with a 120 Hz screen refresh rate
started shipping in the US
less than two months ago, making the absence of Black Friday and Cyber Monday deals wholly unsurprising.

Meanwhile, Best Buy can help you save even more, as long as you choose your network right off the bat... and it's not T-Mobile. The retailer will shave an additional 50 bucks off with upfront Verizon, AT&T, or Sprint service activation, bringing the somewhat extravagant $799.99 list price down to an extremely reasonable $649.99.

Purchasing the Razer Phone 2 from Best Buy without upfront activation will still save you a cool $100 compared to the typical price of a blocky, thick-bezeled, and glass-backed 5.7-incher with Snapdragon 845 processing power.

This bad boy is not exactly stylish by "modern" high-end smartphone standards, but it's got some pretty amazing dual front-firing stereo speakers, a robust IP67-rated body, 8 hefty gigs of RAM, two refined 12MP rear-facing cameras, and a large 4,000 mAh battery supporting wireless charging functionality.
While the Razer Phone 2 can be a great device for many high-end purposes, its main focus is hardcore gaming, employing a unique vapor chamber cooling solution for your extended
PUBG Mobile
sessions, and shining in the display department with the aforementioned 120 HZ refresh rate purportedly delivering "zero lag or stuttering."
Recommended Stories