Amazon has some of the best SanDisk microSD cards and other storage products on sale today
6
We may earn a commission if you make a purchase from the links on this page.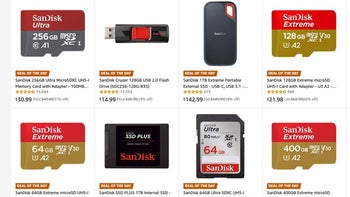 Between the advent of cloud storage and the rise of high-end phones with outright insane internal digital hoarding capabilities, the need for external methods to stash content of various types seems to have declined in recent years. But prices on memory cards, flash drives, internal and external SSDs, external hard drives, and other storage products have also been dropping like crazy.
As such, even if you don't necessarily need any of the aforementioned items, it's probably a good idea to be prepared just in case. In case you do eventually manage to fill up your handset's 128GB, 512GB, or 1TB hoarding space or if you decide to purchase a more affordable 32GB model next and rely on the cloud and a blazing fast microSD card for anything exceeding that mark.
Just in case well-reviewed memory cards from reputable brands like SanDisk didn't feel inexpensive enough, Amazon is holding
yet another big sale
on a bunch of that stuff. A 256GB SanDisk Ultra microSDXC UHS-I card with up to 100 MB/s transfer read speeds, for instance, is available at an unprecedented discount of $18.50, representing a whopping 37 percent off its list price.
If you need something faster that can handle higher-quality photos and 4K UHD videos, the SanDisk Extreme lineup is naturally costlier, although a trio of substantial discounts bring the 64, 128, and 400GB models down to new all-time low prices of their own. You're looking at savings of between $5 and $164 (!!!), equating to list price reductions of up to 68 percent.
Meanwhile, if you'd rather store or back up your content on a flash drive, two SanDisk iXpand variants designed specifically for iPhones and iPads and a 256GB Ultra Dual Drive for Android devices and computers are also on sale at up to 30 percent off. The Ultra Dual Drive comes with both microUSB and USB 3.0 connectors, promising to transfer files to a PC at up to a 150 MB/s speed. The iXpand (available in 128 and 256 gig capacities) boasts similarly impressive USB 3.0 numbers and a diminutive size, automatically backing up your photos and videos at plugin.
All these deals (and several more on full-sized memory cards, SSDs, HDDs, and regular flash drives) are good today only on Amazon until midnight Pacific Time.