InvisibleShield's new Glass Curve Elite screen protector may be the best thing that happened to your Galaxy S8 or Note 8
16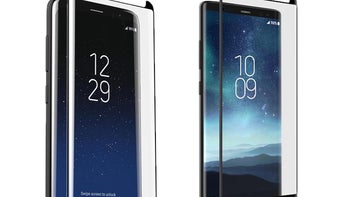 Curved glass protectors are a pain to get right, and most of them, even from reputable brands, are a tradeoff when it comes to side touch functionality or aesthetics. Enter InvisibleShield's new Glass Curve Elite series for handsets with flexible OLED displays that are sloping to the sides, such as the
Galaxy S8
or
Note 8
. The brand's previous curved protector efforts were as good as anyone else's, barring those that have to be installed using ultraviolet baking.
Most of the curved shields so far suffered from the usual touch sensitivity problems due to the adhesive being used at the edges only, or a certain amount of unpleasant shine when adhesive was applied throughout.
The Glass Curve Elite uses all new type of gel glue that eliminates both issues, and is arguably the toughest adhesive it has ever placed on a screen protector, says InvisibleShield. For now, the new gel substance will be used only for Galaxy S8, S8+, and Note 8 handsets, as these are the popular ones in dire need of curved protection for their expensive screens, but more models may be released down the road. The price? At $50 apiece for the Glass Curve Elite covering, it is the same price it charged for its previous sloping OLED display protection efforts.
Recommended Stories