ZTE Open smartphone running Firefox OS costs $90, to launch July 2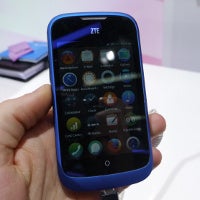 The
ZTE Open
is a member of smartphone breed that has yet to make a name for itself. It is one of the very first Firefox OS smartphones and it is scheduled to launch in Spain tomorrow, July 2. Its price? Just 69 euro off-contract, which equals to about $90. But that's not all. Each customer will receive 30 euro worth of prepaid credit towards their account, sweetening the deal even further.
So yeah, the ZTE Open is cheap, but as the saying goes, you get what you pay for. This budget-friendly smartphone comes with a 3.5-inch, 320 by 480
pixel
display, a MSM7225A SoC with a humble single-core CPU, 3.2MP camera, and just half a gig of storage, not to mention that the software catalog of Firefox OS is still at its infancy.