First Firefox OS phones available now, designed for developers
18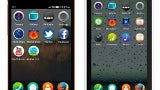 And just like that, one more smartphone OS has joined the game! The first handsets running the Firefox OS are here, and as expected, they are mainly targeting the developing markets.
The two phones are made by Geeksphone, which is a young Spanish manufacturer established in 2009. The cheaper of the two, called Keon, sports a pretty modest 3.5" HVGA screen, 3 MP camera and an aging Snapdragon S1 processor clocked at 1GHz. However, the handset retails for $119, so the low-end specs are justified. The other smartphone, called Peak, is designed to be much more powerful, as it comes with a bigger, 4.3" qHD IPS display, dual-core Snapdragon S4 processor clocked at 1.2 GHz, and an 8MP camera. The Peak can be purchased for $194 off contract.
The makers of Firefox OS are initially targeting developing markets like China and India, which explains the relatively modest characteristics of the first Firefox handsets. Moreover, the Keon and Peak are meant to be developer phones, so users might want to wait a bit more before going for it.
Unfortunately, both handsets are currently listed "Out of stock" at Geeksphone's website, so even developers will have to wait until they can get their hands on one. If you want to try your luck, just head through the source link below, which will take you to Geeksphone's online store.
source:
Geeksphone
via
DailyMobile