ZTE Mimosa Mini Hands-on Review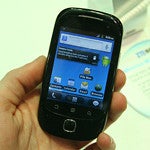 So, how low can an Android smartphone go nowadays? The
ZTE Mimosa mini
appears to be a fitting candidate to set the benchmark. It is a low-end device that will hit the market within the following months and we can safely say that the only impressive thing about it will be its price tag.
Having that in mind, it is no surprise that the device is made out of plastic and feels really cheap. The display does not impress either as it is merely a 2.8-inch touchscreen with a resolution of 240 by 320 pixels. What you also get is a pretty basic
3.2
-megapixel camera, 256MB of RAM, GPS, Wi-Fi, and 3G HSDPA connectivity.
The ZTE Mimosa Mini runs pretty fluidly, but that is most likely due to the low resolution of its display. Interestingly, the specs sheet here at MWC 2012 mentions Ice Cream Sandwich as the Android flavor of choice, but the unit on display appears to be running Froyo, or perhaps even Eclair.
And that is pretty much all we have to say about the ZTE Mimosa Mini. If you were wondering which the cheapest brand-name Android smarptphone around is, you might very well be looking at it.