ZTE Light Tab 300 Hands-on Review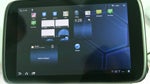 The guys at ZTE have a whole plethora of smartphones and tablets on display at MWC 2012, and we don't really see anything wrong with that. After all, you know how that old saying goes: "The more, the merrier!" The
ZTE Light Tab 300
tablet is among these devices and appears to be a pretty decent offering for those in search of a 7-inch tablet that doesn't cost an arm and a leg.
At 7 inches, the WXGA display on the ZTE Light Tab 300 looks pretty good as the resolution is above the average for its size. The device is somewhat thicker than what we are used to, but on the bright side, it feels relatively solid. It's body may be made out of plastic, presumably to keep weight and production costs down, but we quite dig the way it has been designed. On its side we see a 2-button volume rocker and a power button, which are both well exposed.
The ZTE Light Tab 300 is an Android tablet, but the software that runs on the unit here is not in a final form, so we cannot judge its performance just yet. The platform lacks any kind of personalization, which is good if you prefer the vanilla Android experience. In stock are two cameras - a main one on its back and a front-facing one for video chats, the main one being accompanied by an LED flash. We should also point out that the Light Tab 300 comes with HSPA+ connectivity for web access on the go.