YouTube TV update adds new UI for the guide and autoplay feature
0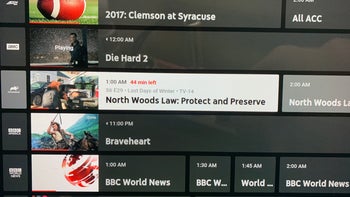 New features are coming to
YouTube TV
meant to improved user experience. Although they haven't been officially announced, several
Reddit users
noticed their YouTube TV app gained a couple of improvements after the latest update.
First and foremost, there's a new UI for YouTube TV's guide. The new guide doesn't seem to be bigger than the previous one, but it does include one more row. It's more of an aesthetic change meant to reduce the size of the YouTube TV guide and make it more user-friendly.
Apart from the new visual changes, it appears that YouTube has added a new setting: Autoplay on start. The new option enables YouTube TV to automatically play one of the user's top recommendations when he/she opens the app.
The good news is you can disable the autoplay feature if you don't like having YouTube TV play any recommended content as soon as the app is opened. Both changes have been confirmed by a
YouTube TV
employee who said that they are slowly rolling out.
For the time being, these changes have been noticed on Roku and Apple TV, but since they aren't specific to select devices, they should pop up on all compatible devices in the coming weeks.