You can watch Apple live stream WWDC 2013 on Apple TV
8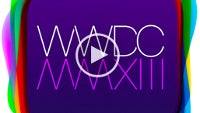 Apple's Worldwide Developers Conference (WWDC) is about to kick off in mere hours and Apple has just launched a
new channel on its Apple TV allowing you to livestream the keynote
and watch the action as it happens.
Apple's WWDC 2013 is different for one big reason - everyone expects to see iOS 7 redesigned with flatter icons and a new style under the supervision of the platform's new boss Jony Ive. At the same time, no one really knows what will get announced.
We have only seen a mockup of a possible iOS 7 redesign, but no real leaks that will guide us into the dark. We don't know whether there will be new device announcements. Will we get new Haswell based Macbooks and Macs? We don't know.
Apple seems to have really doubled down on secrecy at this point in time. So with a lot of excitement we will be covering the whole event live as well. Make sure to tune in at 10 AM Pacific / 1 PM Eastern / 6 PM UK time.
source:
Apple.com