XiStera 8 is an iPhone 5 accessory with 8 different functions
2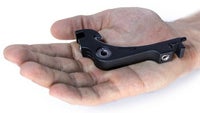 Out of all the
iPhone 5
accessories that we've
seen
so
far
, this has to be the one that adds the most functionality. It is called the XiStera 8, and just like the name implies, it serves 8 different functions. You know, kind of like a Swiss Army Knife, but made for iPhones.
Those who are into iPhoneography will like the XiStera 8 for its set of lenses, attachable to the accessory with the help of a magnet. On top of that, there's a tripod mount and an LED light to help illuminate those low-light scenes. The accessory, which can act as a stand as well, also features a headphone wrap, a key chain, a capacitive stylus, and the mandatory bottle opener. Neat, huh?
XiStera 8 made its Kickstarter debut just days ago, but it quickly raised its $19 000 funding goal and is now aiming at $30 000 as its stretch goal. The entire set can be ordered via the project's page for $65, with an estimated shipping date set for September of 2013.

The XiStera 8 for iPhone 5 serves 8 different functions