World's largest carrier China Mobile to get the iPhone very soon, after several meetings with Steve Jobs
1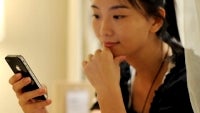 600+ million subscribers are no small potatoes, and Apple knows that very well. Despite not being the largest carrier by revenue, if even 10% of China Mobile's subscribers bite the bullet and get an iPhone, that will still ring in billions for Apple's coffers.
Sadly, only 80 million of China Mobile's subscribers are using its 3G services, so the carrier hopes the iPhone introduction will spearhead the adoption of higher-margin plans.
China Mobile is to get Apple's iPhone officially as soon as possible
, reported the carrier in its latest quarterly earnings presentation. Steve Jobs has evidently already met several times with China Mobile executives on the matter, and we might see the iPhone appearing with its homebrew TD-SCDMA network frequencies as soon as the next generation is announced.
Now, if it is going to be just the
real deal iPhone 5
, a
rumored iPhone 4 update with a plastic chassis and upgraded internals
selling for cheap, or a combination of both, remains to be seen, but currently China Mobile reports 7.44 million iPhone users on its network, without even being able to use the 3G speeds, so the opportunities are definitely out there for Apple. Last quarter
Greater China accounted for $4.8 billion of revenue for Cupertino
, which surprised even Tim Cook himself.
source:
Reuters