Hail the new smartphone kings Apple and Samsung - Q2 earnings recap
34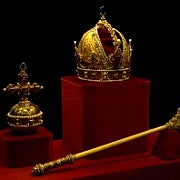 We had a major shift last quarter, especially in the world of smartphones. The trend has been lurking in the shadows for a while, but the change of guard became glaring in Q2. Only four companies out of the popular cell phone makers are actually making money now – Apple, Samsung, HTC and RIM - and the first two both surpassed Nokia as the smartphone volume kings, for the first time in 15 years, since the Nokia 9000 Communicator was invented.
Looking at the pie charts below, Nokia's market share destruction over the course of a year seems bad, but the huge decline over just one quarter is what's genuinely troubling.
Another important takeaway is the demise of the featurephone, for the first time since Q3 of 2009. Research companies peg the decrease of "normal phone" shipments at around 4%, for the benefit of that Swiss Army knife of gadgets - the smartphone. Individual companies, like Samsung, Nokia and LG, are also reporting that featurephone sales in their portfolio have diminished for the sake of phones with Android, Symbian, bada OS or Windows Phone 7, and this reflected positively on the average selling price (ASP) metric.
The biggest surprise, since we are getting accustomed to these "blowout" quarters from Apple of late, actually came from Samsung, so let's start with the world's second largest manufacturer by volume.
Samsung stopped reporting hard numbers about handsets sold or ASPs, speaking instead in cryptic phrases like "
high 10% increase
". Samsung's Investor Relations chief said: "
As competition intensifies, there are increased risks that the information we provide may adversely affect our own business
". Rumor has it that the
legal spat with Apple
is the reason that Samsung stopped reporting exact quantities of smartphones, featurephones and tablets sold, or pinpointing the ASP.
That is why the numbers are relevant for the whole portfolio, tablets included, which might slightly skew the phone numbers, but not by much, as we can't imagine that Samsung managed to sell many millions of Galaxy Tabs in the quarter. Moreover, the slates' ASP could be considered similar to this of high-end phones like the Galaxy S II, so the same goes for Motorola, LG and RIM's tablets, since the numbers reported didn't hover above mere half a million shipments anyway. One exception has been the iPad, which shipped quite a lot, so we are including it separately for illustration.
Using
different ranges of calculation for Samsung's smartphone shipments
, the number can be pegged between 17.3-19.2 million handsets - even the low range is more than Nokia's 16.7 million. Here comes the kicker - compared to Q2 2010, when we had 3.1 million Samsung smartphones, now the company's number comes at the astonishing 550+% increase. This is a real tribute to the success of its excellent Galaxy line of Android smartphones that was introduced last year, and further proof that innovative home-made technologies like the Super AMOLED display and ARM-based chipsets are really making a difference with consumers.
We can write volumes about its record quarter, but we'll say just two words - Greater China, which brought in $4.8 billion of revenue, surprising even Tim Cook. The streets of Beijing are flush with new German and Italian luxury cars, the Nanjing Road shopping district is booming, and the eager to show off Chinese are evidently warming up to Apple's brand image. We can only imagine what will happen when China Mobile and China Telecom with their many millions of subscribers
start selling the next iPhone
.
In what is becoming a tradition,
Apple hijacked 2/3 of the profits in the phone industry with only 6% of the market share
, and there doesn't seem to be anything on the horizon to prevent this from happening again in the second half of the year.
"Elopocalypse now" is a good title by the media for what is going on at the world's largest cell phone maker. Afraid that the Nokia board might lean to something else than Windows Phone, like Android, or stay the course with Symbian and MeeGo, Elop announced the WP switch prematurely in Q1, and the destruction of trust in the brand really showed in Q2, when Nokia reported a loss.
Perhaps worried about Symbian support and feeling the heat from affordable Android handsets, people stopped buying Nokia's smartphones to the tune of 34% nosedive in units sold for just three months, from 24.2 million in Q1, to 16.7 in Q2. The 15% drop in feature phone sales can be somewhat attributed to an overall shift towards smartphones, but the smartphone slump is mostly due to the Nokia Windows Phone announcement made a good year before a full portfolio of those hits the market.
On the other hand, Windows Phone was probably a good move, considering
all the litigation against Android going on
, just its announcement was very ill-timed. Nokia will pay $15 a license to Microsoft, but have special treatment and cash outlays from Redmond as well, so it should do better in 2012. On the other hand, Nokia got more than $600 million of something it calls "
IPR royalty payment
", which is probably the
lump sum Apple paid to settle the patent litigation
, and will be getting royalties for the rumored $11.5 from each iPhone sold in the future, so, ironically, it has every reason to encourage Apple's sales, considering its smartphone margin was negative for the quarter.
As usual, RIM proved that the rumors about its death are premature - it still commands pretty good operating profits and margin, which used to be second only to Apple, but HTC seems to have surpassed it in Q2 as far as margin goes. Its quarter ended in May, so we are using the official numbers for RIM's results, covering March-May, without trying to guesstimate June. It's also worth mentioning that RIM has $3 billion in cash, which, along with the
11% reduction in workforce
means that the company has every chance to turn the corner, and live happily in the niche it has carved for itself over the years.
Only good words can be said about the Taiwanese in Q2.
HTC nailed another record quarter
, surpassing RIM for the second operating margin place after Apple, and reporting $349 ASP, again second after the fruit company. Moreover, its business growth seems unstoppable, doubling the number of shipped handsets to 12.1 million, and even slightly increasing its operating margin to 15.5% at that.
Its
patent litigation woes
, however, might not end without some sort of settlement, and it felt compelled to buy S3 Graphics for $300 million as a pure patent play, which inevitably reflects on the financials.
LG's shipments slightly grew compared to Q1 - a traditionally slow quarter - to 24.8 million handsets, which means that the third largest cell phone manufacturer commands about 7% of the market. Apple is breathing down its neck, though, and in the next quarters could very well become number three in volume itself. LG's revenue was up 11% compared to Q1, and its loss has shrunk both QoQ and year-on-year, thanks to higher ASP due to rising smartphone sales, and measures to cut down on its fixed costs.
The main take from the quarter that ended June for us is not that Apple and Samsung outpaced Nokia's smartphone volume for the first time. Nor is it the fact that Apple made $10 billion largely leaning on a year old phone, its iPads, and their increasing sales in Asia, which shows a huge potential for expansion, and
sent the stock above $400 for the first time
.
What grabbed our attention is
Samsung's 500+ % smartphone growth
– it is truly astonishing what Samsung is doing here, and these sales are probably coming mainly out of Nokia's pockets, although analysts are saying that the Koreans could have capitalized on Nokia's troubles even more.
Samsung might be turning into Apple's main competitor and a genuine threat, which explains all the
legal skirmishes Apple is waging against it
. With this rate of growth, and the remarkable Samsung Galaxy S II entering more markets, including the US this quarter, Samsung could very well surpass Apple as the smartphone leader in Q3. As for the holiday quarter - it's anyone's guess, considering the next iPhone will likely be hitting shelves in September/October.