BlackBerry releases official promotional videos for the BlackBerry Passport
21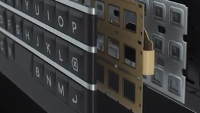 Now that the
BlackBerry Passport
has been officially introduced
, it is available for $599, unlocked. From the start, there has been a large buzz surrounding the device, partially because of its wide boxy look, and partially due to the QWERTY keyboard. Missing numbers and punctuation on the physical keyboard, these show up as virtual keys that appear above the QWERTY based on context. The physical keyboard also doubles as a trackpad, and certain gestures make editing what you've typed, very easy.
Information about the QWERTY keyboard on the BlackBerry Passport, is the subject matter of one of the new promotional videos released this morning by BlackBerry. Another video shows how in real-life applications, the wider screen on the Passport can be more useful than the screens on competing phones.
Another interesting clip shows how and why the BlackBerry design team came up with the shape of the company's new flagship phone. It's all available for you to watch by clicking on the video slideshow below.
source: BlackBerry (
1
), (
2
), (
3
), (
4
), (
5
)