Windows Phone 8 lockscreen gets 3rd party notifications
16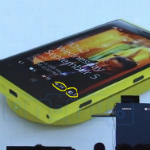 Windows Phone 8 has been
released to manufacturers
and should be released to the public in the next couple months, and so the steady stream of little tweaks and features that we didn't know about are starting to come through. The latest is the addition of 3rd party app notifications on the lockscreen.
Nokia-Microsoft announcement
of the Lumia 920. On the lockscreen during the announcement were the standard lockscreen notification icons that we've come to expect, like missed calls, messages, and mail. But, there were also two new icons that weren't mentioned: Facebook and Twitter.
Integration with Facebook and Twitter are nothing new for Windows Phone, as both have been folded into the system and especially the People app, but notifications on the lockscreen are something new for the social networks. Apparently, Windows Phone 8 also has a new API which will allow other 3rd party apps to display notifications on the lockscreen, with room for up to 5 different app notifications.