Windows Phone 8 is RTM and now it is up to the manufacturers and carriers
39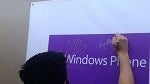 While it is far from being in the clear, Microsoft has signed off on Windows Phone 8 for RTM. This means that the software is ready to be integrated by the phone makers into their devices.
Certainly this is welcome event, but the journey is not over yet. Earlier this week,
we shared in detail some reported problems with the scheduled completion
of this task by Microsoft. The manufacturers have to integrate, test and certify their devices for release – with each carrier. Carriers like Verizon are notorious for having stringent testing regimens for new hardware. In all cases though, there is very little time to get everything ready if there is to be an early November launch for Windows Phone 8
Here is to a smooth implementation by the OEMs and good performance evaluations by the carriers.
sources:
LiveSino.net
via
WMPoweruser