Will.i.am uses his BlackBerry Torch to tweet while holding the Olympic torch in his other hand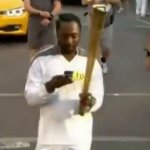 There's just something about celebrities and smartphones that make us all pique with interest, as some really profess their love for their handheld companion. No stranger in that in any way,
Black Eye Peas member Will.i.am
has
shown us in the past his love for BlackBerry
, and yet again, he's showing us why.
This time around, Will.i.am was spotted over the big pond in the
English town of Taunton
, where he was chosen to be one of the
thousands of lucky people to carry the Olympic Torch
. Naturally, it's regarded as an important process carrying the torch and its eternal flame, but if you watch closely enough, we spot him yet again using his tried and true
BlackBerry Torch
to tweet something. In fact, he said the following about the experience:
That was like, a surreal moment. You know I remember in 1984, the Olympics in Los Angeles, and me being a little Will, watching it on TV, wishing I could be at the Olympic Games, and I had that flashback when they handed me the torch to run through Taunton. So it's like a blessed moment, and a surreal moment, and an 'I-can't-believe-it moment' all at the same time.
So there you have it folks, just when most of us thought that the
BlackBerry love is dwindling
, here's Will.i.am showing his love for his device.
via
CrackBerry