Nicki Minaj used a BlackBerry to tweet about her Nokia and Windows Phone show
35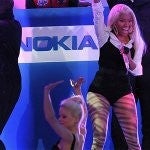 In the wireless industry, celebrities are used all the time to endorse some of the latest and coolest smartphones. As we've seen very recently, Microsoft, Nokia, and AT&T all brought it to a
super scale in the Big Apple
very recently for the launch of the
Nokia Lumia 900
.
Kicking off the special event, the always charismatic and eclectic
Nicki Minaj
played to a huge audience in Times Square. Of course, there was a lot of money thrown in for the event, which was attended by a crowd waiting to see Ms. Minaj doing her thing on stage. Naturally, one would think that a celebrity like her would've been flaunting and using Nokia's pride and joy, but interestingly enough, it seems she prefers using something else.
Rightfully so, being unpredictable and zany, it's always going to be a guess with Nicki Minaj – and that's what happened after the big show. After such an exhilarating event, Minaj decided to tweet the good news about her performance using a smartphone, but it's not what you're thinking. Rather than using the Windows Phone powered Nokia Lumia, she used a
BlackBerry
and the
Ubersocial
app to talk about her intense show to all her fans on Twitter.

Who knows what happened exactly happened, but in any event, it simply goes to show that BlackBerries are still highly sought out by the stars.
via
CrackBerry