HTC CEO will carry Olympic torch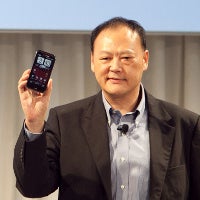 HTC's chief executive Peter Chou is one of the coolest CEOs in the industry - he performs with music bands, sings on stage in front of people, but most importantly uplifted HTC to global success. The last couple of quarters the company is back on the rise, growing revenues, and that's good news.
Good enough for Chou to be among a couple of hundreds of people that will relay the
Olympic torch
. The HTC head has been honored for his contributions to the development of the mobile industry as a whole.
"Every step I take will represent my deepest support for Taiwan's athletes attending the London 2012 Olympic Games," Chou said.
Check out HTC's top management have a good time on stage singing and dancing to Chinese tunes below, isn't it cool having such a boss?