Will Amazon skip 8.9" and jump the Kindle Fire straight to 10.1"?
6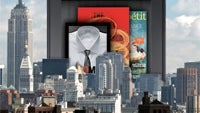 A new rumor has surfaced today suggesting that Amazon may abandon plans for an 8.9" Kindle Fire altogether in favor of a 10.1" model. Now we have to point out that the original speculation was sourced by Reuters, while this latest claim comes courtesy of DigiTimes, and let's be honest, not all sources are created equal.
Nonetheless, contrary to Reuters' report, DigiTimes' sources claim that the 8.9" model was actually purported to compete with Samsung's Galaxy Note tablets and the 10.1" model was decided on to go up against the iPad. They also said that this supersized Kindle Fire would likely be launched in Q3.
It sounds like a believable strategy, but driving the price up too high would definitely be a caveat for Amazon. As always, we will have to wait and see.