T-Mobile subscribers have a good reason to be excited about the 2019 Apple iPhone models
16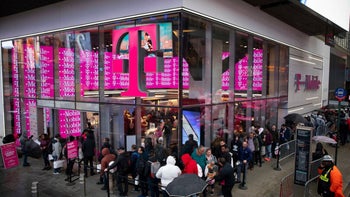 T-Mobile pointed out today that most consumers in the states are holding on to their phones for a longer period of time before upgrading (the average is 3 years according to the carrier). As a result, many consumers have older phones unable to take advantage of the latest technological advances in network technology. In other words, these Americans are not enjoying the fastest 4G LTE data speeds available to them. And T-Mobile customers with a new iPhone supporting its 600MHz spectrum will have 792,000 square miles or 52% more LTE coverage than phones that don't support the wireless provider's low-band network. T-Mobile also notes that its customers already using a smartphone that supports 600MHz airwaves use 50% more data than customers using a phone without such support. As our loyal readers have pointed out, the 2018 iPhones supported Band 71 which uses the carrier's 600MHz spectrum.
T-Mobile is teasing an "incredible iPhone offer coming" and promises to announce it soon. Meanwhile, T-Mobile customers can pre-order one of the new iPhone models or the
Apple Watch
Series 5 starting at 5 am PDT (8 am EDT) on Friday, September 13th. The devices will be available in T-Mobile and Metro by T-Mobile stores starting on September 20th. The seventh-generation iPad is expected in the stores on September 30th. Pricing will be announced shortly.
You might have noticed T-Mobile's new television ads promoting its low-band 600MHz spectrum. If you are a T-Mobile subscriber using an older iPhone model, you might want to consider upgrading to one of the 2019 iPhones and check out the advantage of having a phone that runs on the carrier's 600MHz airwaves.