White LG Optimus 2X confirmed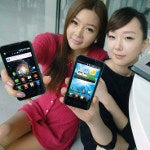 South Korea was thefirst to get a dual-core phone with yesterday's launch of the LG Optimus 2X.And while the western hemisphere will still have to wait, LG justconfirmed that Europe will get a white version of the phone when itarrives in February.
"World's firstdual-core smartphone - LG Optimus 2X - now availablein Korea, white version coming in Feb," LG's head of marketing KenHong said on Flickr. White is the newblack, as marketingspecialists would probably put it, especially after the unsuccessfuland still rumored about launch of the whiteiPhone 4. Someof the latest smartphones inwhite include select GalaxyS phones, a part of Sony Ericsson's XPERIA lineup
and a white version of theBlackBerry Bold.

Just how successfulwould the Optimus 2Xbe depends a lot on its timing, but a white version would certainlyappeal to the aesthetes among us. Its major competitors – the Motorola DROID BIONIC for Verizon andthe Motorola ATRIX 4G with its uniquelaptop dock for AT&T are due as soon as March.
source: Pocket-lint