LG Optimus 2X Hands-on
19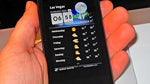 And here we are finally having our sweet hands-on time with the much-leaked and much-talked about
LG Optimus 2X
smartphone - the first dual-core handset to become official. Although we didn't see much from LG in terms of high-end smartphones during the course 2010, we're now pleased to know that the manufacturer will right the wrong in 2011 with both the Optimus 2X and its super-thin sibling, the
Optimus Black
.
The
LG Optimus 2X
actually doesn't fall behind when it comes to being streamlined and sleek-looking. The phone is certainly made of premium-feeling materials and has a very reassuring in-hand feel. Appearance-wise, it's refreshing to see some small details being added like the tapered edges of the front.
We've got to tell you, folks, the Optimus 2X's
4" WVGA IPS screen
is simply magnificent! It has a really crisp image quality with warm color tones. What makes all the fun possible though is the
super-fast dual-core Tegra 2 chipset
that is running the show behind the scenes. It's simply fantastic to see Android 2.2 run with absolutely no lag when navigating around the platform. We assure you, never has Android been running so smoothly! But that's all thanks to Nvidia, of course. So only time will tell just how much of an impact that company will have on the wireless industry.
In terms of photo-taking capabilities, the Optimus 2X should fare pretty well with its
8MP main camera
with autofocus and LED flash, which nicely complements its overall high-end specs sheet.
We're a bit saddened by the fact that the Optimus 2X isn't running the latest version of Google's mobile OS, but one can never have it all, right? At least we hope that Gingerbread will become available for the handset at some point in the (very) near future. Similarly to the Optimus Black, the 2X has
LG's Optimus 2.0 UI
to give it a customized look, along with the
Gesture UI
, the purpose of which is to add some fancier gesture controls to the interface.
Overall, the LG Optimus 2X seems like a very promising smartphone. It's expected to become available globally as soon as this quarter.