White iPhone 4 shows up once again, this time in Best Buy's system
8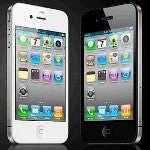 Just when you thought that the VerizoniPhone 4 launchwill put to rest all iPhone rumors, Best Buy's inventory update comesto prove everyone wrong. Well, this time the rumors might be just abit more credible as the appearance of the white iPhone 4 on BestBuy's system comes shortly after the handset showed up in Vodafone Germany's inventory.
As you can see on the screenshots, thewhite iPhone is expected to be in stock as early as February 27th.Whatever the reasons for the long delay, the launch date is perfectlyin line with what we previously heard about a Spring launch of themythical handset. And as we reported previously, Europe should begetting the phone in February, which gives an even more solid groundto whispers.
But is the white iPhone going to be asbig of a deal as it would have been last summer? With the nextgeneration iPhone anticipated in a few months, many might prefer towait, and why not even jump ship to other operating systems likeAndroid, which could bring dual-corespeeds even earlier. What is your opinion on this, would youget the white iPhone if it appears this Spring?
source: MacRumors