Motorola ATRIX 4G Hands-on
50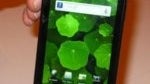 Think that all of the high-end Android love from Motorola is only reserved for Verizon? Well, the perception is quickly going to change now that the venerable smartphone maker has announced the
Motorola ATRIX 4G
which is bound for AT&T packing along some beloved high-end specs that will make you gasp with joy – especially for those AT&T customers tired of seeing nothing but mid-range devices. In reality, the ATRIX 4G is actually the long rumored Motorola Olympus which is the dual-core Tegra 2 packing beast that everyone has been yearning for.
Naturally, high-end specs are all around with the Motorola ATRIX 4G with its sizable
4" qHD display
that boasts a stunning resolution of
540 x 960 pixels
. Looking straight at it, there's no arguing the kind of beauty and elegance it embodies as it packs plenty of crisp visuals to make your eyes gleam with joy. Moreover, there are other admirable features that will surely make you fall in love – such as 1GB of RAM, large 1,930 mAh battery, and support for faster speeds thanks to HSPA+ connectivity.
Taking a hold of the device, it doesn't quite have that stark industrial design that made devices like the
Motorola DROID
and
DROID X
stand out. But nonetheless, you can gauge that there was a lot of love put into its construction and design to still catapult it to the status of other high-end devices on the market. In fact, it's surprising to find it come close to the same dimensions as the
iPhone 4
– which is impressive when you consider that it packs a healthy sized 4" display.
Underneath all of the top notch hardware, we find the Motorola ATRIX 4G running that all too known customized MOTOBLUR skin on top of Android 2.2 Froyo. Yeah, we know what you're going to say, but we simply hope it will receive the Gingerbread treatment quickly. All in all, the dual-core Tegra 2 chipset enables the handset to fly in just about every aspect we put the device through – so literally, you won't ever have to miss a beat on anything.