Motorola DROID BIONIC Hands-on
58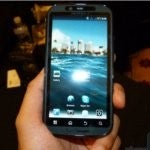 Oh, Verizon customers, it's surely nice to be the ones who constantly find venerable smartphone maker Motorola crafting stellar devices that never fail to galvanize the hearts and minds of consumers all-around. Even now, we're continuing to see the DROID brand resonate deeply as the latest one to join the ranks, the
Motorola DROID BIONIC
, is coming straight at us at lighting speeds and killer hardware to undeniably drop jaws all-around. So if you're a current Verizon customer, don't flinch for a second, because this thing is aiming to plop itself nicely onto Big Red's lineup.
Before we get into some of the nitty-gritty portions of the Motorola DROID BIONIC, we have to say that for something rocking some next-gen specs, its design is rather on the
bland side,
when you look at something like the
Motorola DROID X
. There's no arguing that Motorola can make killer-looking smartphones, but they don't particularly come out to their full potential with the Motorola DROID BIONIC. Despite its all-too-common looking approach, there's still a lot to melt over since every nook and cranny is filled with something spectacular.
In fact, your eyes will
pop looking at its 4.3" capacitive qHD display
, which packs a respectable 540 x 960 resolution that offers plenty of crisp details to catch your eyes initially. Secondly, we find a
dual-core 1GHz processor
under the hood that made navigating around the platform extremely fluid and smooth – which is something we'd expect with such a high-flying phone. Third, it's going be one of the few devices for Verizon that will be packing
next-generation LTE speeds
to match its swift processing prowess. Moreover, it features 512MB of the
desktop-grade
DDR2 variety, an 8-megapixel auto-focus camera with flash, HDMI output, and a front facing camera for video calling.
Underneath all of the fancy, larger-than-life specs, it's powered by Android 2.2 Froyo with the unique dash of the latest MOTOBLUR interface that some have learned to appreciate. Although some might not be moved by its choice siding with Froyo from the onset, it's going to be interesting to see how quickly we find Gingerbread making the rounds for this device. Nevertheless, with a tentative early Q2 release for Verizon, anything can happen between now and then, that might quickly turn that Froyo treat in an even tastier Gingerbread dessert.