White BlackBerry Classic arrives this week in selected regions
21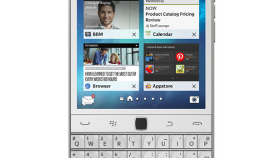 The idea for the
BlackBerry Classic
came about when it was noted that
older BlackBerry 7 models were outselling BlackBerry 10 handsets
. One model in particular, the
BlackBerry Bold 9900
/
9930
was outselling many of the newer handsets. When launched in 2011, the Bold 9930 was the manufacturer's flagship model with a spectacular physical QWERTY keyboard, the best BlackBerry browser to date, and a touchscreen.
Many BlackBerry faithful had expressed their desire to own the BlackBerry 9900/9930 if only it could be offered with BlackBerry 10 running the show. Since there was no way to update BlackBerry 7 machines with BlackBerry 10, the manufacturer decided to start from scratch with a old-school model that would run BlackBerry 10. So, the BlackBerry Classic was born featuring a trackpad, function keys and a, well, classic design that harkens back to the Bold 9900/9930. But compared to the Bold 9900/9930, the BlackBerry Classic has triple the browsing speed, 60% more screen space and 50% more battery life.
The BlackBerry Classic, which comes with BlackBerry 10.3.1 OS, offers the latest and greatest software features including
BlackBerry Assistant
, the platform's version of Siri, Cortana and Google Now. The OS build also comes with BlackBerry Blend which allows you to view content from your phone right on your PC, and the Amazon appstore from where you can install Android apps for your phone.
Starting this week, the BlackBerry Classic will be available in white in Indonesia and Hong Kong. The white Classic will rollout over the next several weeks at online and carrier retail stores in Asia, Europe and the Middle East. Like the black version of the device, the white BlackBerry Classic will have a 3.5-inch screen protected by Gorilla Glass 3. With a resolution of 720 x 720, the phone sports a pixel density of 294ppi. Under the hood is a dual-core 1.5GHz Snapdragon S4 CPU with the Adreno 225 GPU handing graphics. 2GB of RAM is inside along with 16GB of native storage. A 128GB capacity microSD slot is at the ready for those needing more storage. Back and front-facing cameras weigh in at 8MP and 2MP, respectively. A 2515mAh battery keeps the lights on.
If you're seeking privacy, the BlackBerry Classic comes out of the box encrypting your email, browsing and BBM communications. And now, the old-school phone is available in white. For long time BlackBerry fans, life can't get any sweeter.
source:
Crackberry