Which smartwatches sold the most at Amazon and Best Buy last quarter? Find out here!
10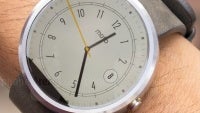 Perhaps not as quickly as some had expected, smartwatches are finding their way onto consumers' wrists. Despite the less than spectacular sales, most of the major global players in the smartphone industry are churning out the wearable device. With a plethora of timepieces to choose from, which models were rung up the most by Amazon and Best Buy last quarter? Go ahead and make your guesses. The results are coming your way.
According to JeeQ Data, which runs through the placement of devices on lists as a way to determine sales, the top selling smartwatch at Amazon during Q3 was the 2014 U8 U Watch Bluetooth model, followed by the Motorola Moto 360 in black leather. The Pebble smartwatch in black was third, followed by the 42mm Apple Watch Sport in Space Gray, with a black band. Rounding out the top five was the Singe Bluetooth 4.0 smartwatch with a black bracelet.
Overall at Amazon last quarter, Motorola had the largest market share accounting for 19.23% of smartwatches sold by the online retailer. Pebble, with 14.75%, was next. UZOU had 14.43% of smartwatch sales, good enough for third place. Samsung (10.60%) and Apple (7.43%) were fourth and fifth, respectively.
Over at big box retailer Best Buy, two Fitbit models topped the charts for the third quarter. The large Surge watch and heart rate monitor in black was number one, while the small-sized version of the timepiece was number two. The Samsung Gear Fit fitness watch in black was third with Sammy's Gear 2 Neo right behind. The Pebble Time in black was fifth. The Motorola Moto 360 in black, silver and Cognac took up sixth, seventh and eight place, respectively. In ninth place was the stand-alone Samsung Gear S for AT&T, in black of course. And number ten was the original Pebble smartwatch in (all together now) black.
The battle for smartwatch market share during the third quarter at Best Buy was pretty tight. Motorola led the way with 27.93% of sales. Samsung was next with 26.30%. Fitbit finished with 20.11% of the pie, good enough for third place. Pebble's 17.17% gave the manufacturer the fourth highest share of the retailer's third quarter smartphone sales. There was then a tremendous drop off with Microsoft's 5.54% share giving the software giant fifth place.
Things could be different at Best Buy for the current quarter as the Apple Watch has been added to the retailer's smartwatch lineup. Best Buy CEO Hubert Joly says that thanks to heavy demand,
the chain is increasing Best Buy's initial rollout plan for Apple's timepiece
.
Thanks, Kevin!