When the Moto X hits the Play Store it will not be Google Edition (pure stock)
29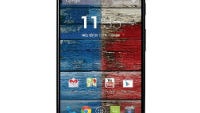 It has been confirmed that the Motorola Moto X will eventually be
sold through the Google Play Store
, but the original report that we heard made it seem as though the Moto X would be sold as part of the Google Edition lineup. If this were true, it would mean that it would have the extra Motorola features stripped out, and it would be running pure stock.
Apparently, that isn't true. Leo Laporte said yesterday on
This Week in Google
that Motorola's own Guy Kawasaki said that
when the Moto X is sold through the Play Store, it will have the same software that exists on any carrier
. None of the Motorola enhancements will be stripped out.
Really, this makes more sense than bothering with a Google Edition version of the device, because there are so few customizations by Motorola. There is the always listening voice command, the quick gesture to launch the camera, the Active Display notifications, Moto Assist, and Moto Connect. That's really about it.