WhatsApp CEO claims it has more users than Twitter and more messages than Facebook
16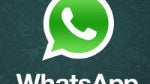 WhatsApp is a pretty amazingly popular app. The idea is simple enough: it's a messaging app similar to BlackBerry Messenger, but WhatsApp is available on multiple platforms. There are a number of apps that do the same, but WhatsApp seems to be winning the war of users, because its CEO is now claiming that the app has more users than Twitter and more messages than Facebook.
Speaking at the AllThingsD: Dive Into Mobile conference, WhatsApp CEO Jan Koum said that the app has more users than Twitter. She didn't give an exact number, but Twitter has recently put its user base at 200 million monthly users. Although, probably more impressive than that, Koum went on to say that WhatsApp processes 18 billion messages every day, which is nearly double the 10 billion per day that Facebook reportedly handles.
Koum defended the company's decision to leave behind ads and move to a paid subscription model, saying that there are too many ads these days. She said that WhatsApp hasn't lost any users since moving to the paid model, which isn't really a surprise since a subscription is a mere 99 cents per year.