What will LG bring to MWC?
6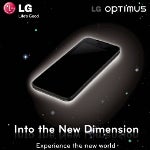 LG's announcements at this year's CESwere definitely one of the most pleasant surprises, if you could callthe LG Optimus 2X, which leaked before the show, a surprise.But what will the company bring to the biggest mobile show this year,the Mobile World Congress in Barcelona this February?
Take a look at the image LG sent us for their official event below. Does the handset there look familiar?It sure does to us, as the trapezoid form of the earspeaker and whatseems to be the proximity sensor hint strongly at the Optimus 2X.Well, not much of a surprise here, but this is just an educatedguess, so it might be a different handset. The Optimus 2X has alreadyappeared for pre-order on many websites such as the German Amazon fora price of around $680 (499 euro).
The handset is expected to be the firstwith a dual-core processor and the spec sheet is impressivewith full 1080p HD video recording on the 8-megapixel camera and a4.0-inch screen with a resolution of 480 x 800 pixels. Stay tuned as MWC is approaching and we will be there to cover all the latest from the mobile phone world.