What is Bill Gates' smartphone of choice? A Samsung Galaxy Z Fold 4
8
We may earn a commission if you make a purchase from the links on this page.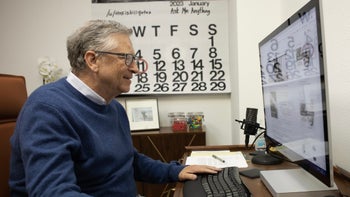 Have you ever wondered what smartphone a really, really rich person would choose as their daily driver? Well, you need not look much further for the answer to that question. We now know the handset that, once richest man on Earth, Bill Gates uses on a daily basis. Spoiler alert - it is not an iPhone.
Recently, Bill Gates decided to participate (for the 11th time) in one of Reddit's most famous series - "
Ask Me Anything
". Naturally, people had many tech-related questions for the Microsoft co-founder, including which smartphone the billionaire is currently using. And no, it is not a Surface Duo 2.
Bill Gates apparently uses a Samsung
Galaxy Z Fold 4
, which was given to him as a present from the Chairman of
Samsung
, Jay Y. Lee. He then goes on to elaborate that he uses a lot of Microsoft software on it. A lovely final touch was Gates' assertion that, because of the 2-in-1 form factor of the Fold, he does not have to use a tablet.
Bill Gates' choice for a daily driver is not entirely surprising. Microsoft's recent hardware efforts have centered on 2-in-1 devices like the Microsoft Surface lineup. Additionally, the fact that Gates uses a foldable as a daily driver says a lot about Microsoft's smartphone series.
Speaking of which, just recently, information regarding
the discontinuation of the Surface Duo series
as we know it emerged. According to most reports,
Microsoft will be taking the foldable route
with its next smartphone.
This is a transition that is justified, but somewhat disappointing, given how unique the Duo was in the grand scheme of things. There simply was no other smartphone like it.
Still, foldables are a favorite of many individuals that are drawn to productivity devices. Bill Gates seems to be no exception. However, he might be ditching Samsung's Galaxy Fold for a Microsoft foldable in the near future.
Reserve the Samsung Galaxy S23 lineup