Microsoft seemingly ends production on Surface Duo 2 and it's no longer available new
7
We may earn a commission if you make a purchase from the links on this page.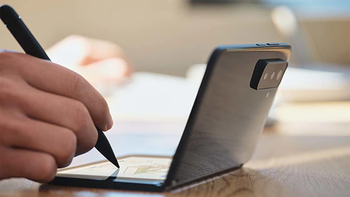 Update:
Most Best Buy locations have run out of the Duo 2. Microsoft gave the following statement to
Windows Central
about its availability status:
We are aware supply is currently falling short of demand in several markets. While we do not have inventory information to share at present, Surface Duo remains an important part of the Surface portfolio."
The outlet's sources have told it that the company is currently working on the Surface Duo 3. In the meanwhile, your only option is to get a used unit from the likes of Amazon and eBay.
The original story continues below.
###
It looks like Microsoft has sold most of its inventory of the
Surface Duo 2
and a
Windows Central
report suggests that its production has ended. Most retailers are out of stock but luckily for those who want to get their hands on this wonderful device, Best Buy has the Duo 2 on sale.
The Surface Duo 2 is not a run-of-the-mill device and it's clearly not meant for everybody. It's aimed squarely at people who believe that focusing on one thing at a time is wasteful and like to use their devices to their maximum potential.
Unlike Samsung's Galaxy Z Fold 4, the Duo 2 has two 5.8-inches screens that are joined by a hinge to form one 8.3 inches display, making it the size of a tablet. The hinge is clearly visible, but you won't notice it after some time, and even foldable phones have a crease, so seamless bendable screens aren't really a thing yet anyway.
The 360 hinge can keep the device in any position you like. So, for instance, you can fold one display all the way back and use the Duo 2 like a conventional phone, use it like a tablet, use one app on two screens to do different things, or use the tent position to play games with your Bluetooth controller.
Really, the possibilities are endless, giving the Duo 2 an edge over
newer foldable phones
. You can even position it like a laptop and use the bottom half for typing and the upper half as a screen. You can have a chat window open on part and browse the web on the other. It also mimics the book-reading experience.
Another trick that the Duo 2 has up its sleeve is that the inside edges are slightly curved, so you can still see a portion of the screen when the device is folded shut. Microsoft calls this area the Glance Bar, so even though there is no external screen, you can see heads-up info like the time, battery percentage, messages, and incoming calls without needing to unfold the device.
The Duo 2 is powered by the Snapdragon 888 chip which is sufficiently fast and provides solid performance. It has a triple rear camera array and a selfie camera and they take detailed pictures in most lighting conditions.
Other notable specs include a power button integrated fingerprint read, dual speakers, NFC, and stylus support. The battery lasts a day with moderate use. The device will be supported until at least late 2024 and it also got the big screen focused
Android 12L OS recently
.
The base Surface Duo 2 launched with a price of $1,499.99 and Best Buy is currently selling it for $824.99, so you'll get to save $675. You can admittedly get better-specced slab phones for this price but none of them can match the Duo 2's multitasking abilities.