Weekly app and game deals: NBA2K14, NFS, Sims3, and more
2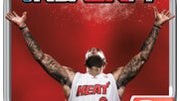 What better way to start off the week than getting some of the best games for a fraction of their price? Some of our favorite Android and iOS games are now on sale for a limited time, and you'd better hurry up and get these deals while they last.
This week, we have just a gigantic collection of great titles that we believe will serve practically every taste: starting from basketball buffs readying for the NBA playoffs with the discounted NBA2K14, to speed racers who can get NFS: Most Wanted at a great price, and finally even sim lovers will get a dose of the cheap game medicine with a discounted The Sims 3. There are also plentiful casual titles like the Where's My Water series, and Temple Run.
Of all these, we have already purchased a few ourselves, but we're curious to know: which of these discounted Android and iOS games are you willing to get?