Water-resistant Kyocera Hydro and full QWERTY Kyocera Rise bring ICS on a budget
3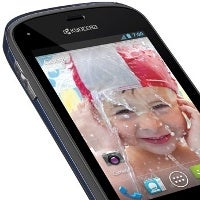 Kyocera has just unveiled two new Android 4.0 Ice Cream Sandwich handsets at CTIA aiming for the budget-conscious customer: the water-resistant Kyocera Hydro and the full QWERTY Kyocera Rise.
The phones run on very similar hardware - both the Kyocera Hydro and the Rise feature 3.5-inch HVGA (320x480 pixels) displays, 1GHz single-core processor, 512MB of RAM, a 3.2-megapixel camera and a 1,500mAh battery. The two run on CDMA networks only with no LTE support. From there on come the differences.
The Hydro claims the high water resistance rating IPx5 and IPx7 ratings. The IPx5 shows the phone will resist your kids' attempts to spray it with water, and the IPx7 guarantees you can submerge it in as deep as 3.3 feet (one meter) for as much as 30 minutes and still know the phone won't suffer any damage.
The Kyocera Rise features a full QWERTY physical keyboard and that's its main differentiator. Kyocera says it made the phone in response to customers demand. Interestingly enough, we can barely think of a recent Android handset with a physical keyboard, so the company might have well nailed it with the Kyocera Rise.
The chiclet keyboard itself slides out from the side and has four rows of buttons. This makes it thicker than your average phone at .56 inches (14.3mm). The phone comes with 2GB of memory pre-installed and supports microSD cards of up to 32GB.
The two phones will be available on a variety of CDMA carriers like Verizon and Sprint, but Kyocera didn't specify which ones exactly.
Now, it seems that Kyocera has managed to run ICS smoothly on below average hardware, which is great. It also makes you wonder how valid are some companies' excuses that their hardware doesn't support Android 4.0, doesn't it?
source: Kyocera