Watch a Marvel and DC Comics illustrator do what he does best with an iPad Pro and Apple Pencil
35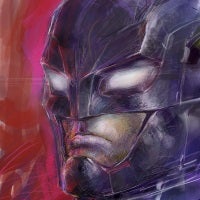 There's nothing like starting things off with some fine art! And as far as we're concerned, it can't possibly get better than having mr. Jim Lee himself – a comic book illustrator of Marvel, DC Comics and Image Comics fame – test-drive his
iPad Pro
and
Apple Pencil
by drawing Batman and the Joker! Needless to say, the photos and videos he published on Instagram are nothing short of awesome! If they don't put iPad Pros in the hands of budding comic book artists, we don't know what else will. Anyway, Jim Lee used Procreate, a $6 drawing app available in the Apple App Store. What you're seeing came straight out of the app.
While we aren't artists or anything, we're quite impressed with how the iPad Pro and the Apple Pencil bridge the analog and digital drawing domain. Yes, tablets for drawing aren't anything new and never seen before. But the iPad can be taken anywhere, the stylus works like an actual drawing tool, and the device's power and connectivity let you share and collaborate on your work in real time! No wonder design houses around the world have been picking these up like hot cakes!
So, there you have it – Mr. Lee, an iPad Pro, and the results – a sight to behold! The Procreate app can be
downloaded here
, and the videos are available on
Jim Lee's Instagram
.
Also read: