Want a Nokia Lumia 520 right now? Factory unlocked models available on eBay for only $239
27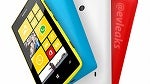 It is tempting, a SIM-free device, brand new, sealed in the box and under factory warranty at a price of about what it costs to buy a subsidized handset with a contract.
Like anything in life though, you would be making a few compromises by picking up one of these unlocked Lumia 520s being offered up for sale on eBay, the most noticeable of which is that you would have very limited 3G support and no 4G service at all.
Still, a brand new factory backed smartphone for $239 is a really good deal, even if you are forced to contend with 2G/EDGE most of the time. As a primary or back-up communication tool that can pretty much work anywhere in the world, the Lumia 520 shines as an example of an affordable smartphone by any measure.
Moreover, Windows Phone as a platform is a smooth operator, and the Lumia 520's dual-core 1GHz Snapdragon processor is more than up to the task. The microSD storage supports cards up to 64GB. You will not mind that it does not have a front facing camera because you would not be able to have effective video chat on EDGE anyway, but you can count on some pretty exceptional battery life. The eBay vendor has the Lumia 520
available in black
and
red
, and basic shipping is free with optional express delivery methods available.
via:
WPCentral