Walmart to carry the first Android Pie tablet not made by Samsung or Huawei, for the joy of parents
1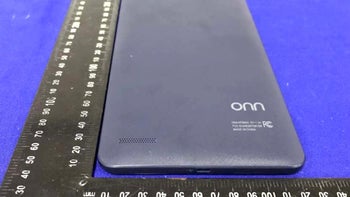 Tablets may be on the wane as their media and productivity machines ascent didn't materialize as manufacturers planned, but they are still introductory devices to the wonders of iOS or Android for many, especially young children that are still not on the smartphone waiting list.
Thus, it may be heartening for parents to learn that Walmart
will carry
what would probably turn out to be the first affordable tablet with
Android 9 Pie
on board, judging from its
FCC listing
. The presumably low price point will be achieved by escaping the warm and expensive embrace of juggernauts like Samsung or Huawei, which are the only ones so far with Pie tablets that may seem pricey to someone who is simply searching for a slate their kid can wreck in less than a year's time.
The tablet coming to Walmart is of the store's internal Onn branding that sells plenty of electronics and accessories there, and is, needless to say, made in China, trade war be damned. It's got an 8" 800x1280 pixels display, 2GB RAM, 16GB of expandable storage, and a fast-charging 3500 mAh battery which may seem smallish, but with these specs and screen resolution, plus Android 9 Pie's battery management, it should suffice. Mum's the word on pricing yet, but given the specs and the Walmart mojo, the Onn tablet should be high on your kid's birthday shopping list.