Vodafone UK temporarily reduces the price of the HTC One X and One S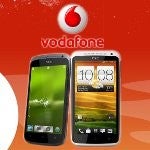 Overseas, our friends in the UK have been partaking in the wonders beholding the new set of devices coming out of the HTC One line. Well, there's some good news for those
Vodafone UK
customers thinking about making the plunge and buying two specific smartphones, which of course, are getting some temporary price drops.
Currently and for a limited time, Vodafone UK has cut the price of its
HTC One X and One S
– thus, bringing the two down to the oh-so wonderful price of free with a 2-year contract. Actually, you have to be on a certain minimum monthly plan in order to quality.
From the looks of it all, you'll need to be on a
£36 ($58)
per month plan to snag on a free HTC One X, which provides 600 minutes, unlimited texting, and 1GB worth of data. Conversely, the anodized unibody aluminum constructed HTC One S requires a
£31 ($50)
per month plan, and that dishes up 300 minutes, unlimited texting, and a 500MB allotment for data.
All in all, you really can't beat two feature filled smartphones that are priced to sell for free – it's simply too tempting to pass up! However, just don't wait around to finalize a decision because this price drop appears to be for a limited time. Specifically, Vodafone UK mentions that this special promotion is set to expire come
May 14th
.
source: Vodafone UK (
1
&
2
) via
Android Central