Vizio teases a 10" VTAB3010 tablet, promises "Beauty & Braun"
1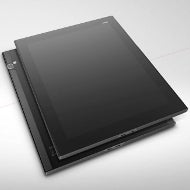 America's favorite value-for-money TV brand Vizio's had a first foray into the tablet world with the 8"
VIZIO Tablet
, and even got
Blake Griffin to endorse it
. Now the company is going for a second run with an "M Series" VTAB3010 slate, upping the screen to 10".
It doesn't get much more detailed than that, as we are still waiting for the official specs, but it seems to have front and rear cameras, plus connectivity options at the bottom, one of which looks like an HDMI port.
Vizio has titled the teaser page "Beauty & Braun" (we'd just assume they meant "brawn", or it's a deep play of words that will be revealed when time comes), so we'd expect a fairly slim tablet with at least a dual-core processor inside, plus a number of ways to use your tablet as a remote for your Vizio TV and sync with other gear from the company, like the newly-introduced Vizio computers.