Virgin's Richard Branson hints at the release of his iPad magazine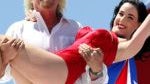 Sir Richard Branson, the British business tycoon behind the
Virgin
empire, has announced his upcoming iPad magazine, called 'Project'. To be honest, it sounds like something he made up on the fly, as a response to News Corp.'s upcoming '
The Daily
' iPad newspaper.
Branson didn't offer much about the magazine, except that it will cover "entertainment, travel, business, design, and international culture." Judging by those themes, it could be a dead ringer for 'American Way' on American Airlines, or any other such generic publication. As the part-owner of Virgin Atlantic Airlines, he may well hybridize the airline's magazine with the one destined for the
iPad
.
Publications like 'Project' and 'The Daily' are the motivation behind Apple's upcoming
iOS 4.3 update
. The new update will accommodate for a new subscription function within iTunes, so customers can subscribe to pushed periodicals.
Oprah
is also leading the way for Hearst Publishing, releasing her own special edition 'O Magazine' for the iPad. Although it is currently on an individual purchase basis, it will likely move to the subscription model as well.
source:
Yahoo! News