Apple may be updating to iOS 4.3 in December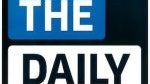 iOS 4.2
only is still brand new, but there's already word of an iOS 4.3 update coming on December 13th. The update won't be a major overhaul of iOS functionality, but instead a minor revision to accommodate the subscription service of News Corp.'s new tablet newspaper,
'The Daily'
.
Rumors have been circulating about the collaboration between
Steve Jobs
and Rupert Murdoch's News Corp. Murdoch confirmed last week that they were working on an tablet-only subscription publication, saying that "News Corp. has spent the last three months assembling a newsroom that will soon be about 100 staffers strong. 'The Daily' will launch in beta mode sometime around Christmas, and will be introduced to the public on the iPad and other tablet devices in early 2011."
The launch of 'The Daily' pertains to iOS because Apple doesn't currently support the required type of subscription service. Apple will then add subscription support on
iTunes
' backend. This also sheds light on the earlier rumors of an
iNewstand
, in that Apple will instead just offer subscription support for its app contributors.
A reliable source told MacStories that Apple was already planning for a mid-December launch of iOS 4.3 before they released iOS 4.2. The iOS 4.2 update was then delayed due to
Wi-Fi issues
, which is why these two updates are coming in such close succession. It's rumored that iOS 4.3 will also fix some of the remaining bugs in iOS 4.2, like issues with AirPlay.
We're hoping that this iOS update will also coincide with the unveiling of their new data center in North Carolina. iTunes and
iPhone
users know that there are sometimes lags in server response, which are caused by an overloaded server base. With a stronger infrastructure and new subscription service, developers and users alike will get a welcome gift for the holidays.
source:
MacStories
via
IntoMobile
Recommended Stories