ViewSonic ViewPhone 4s and 4e dual-SIM phones Hands-on Review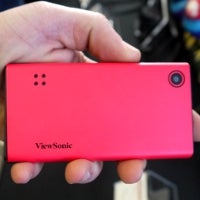 The
ViewSonic ViewPhone 4s
is a new dual-SIM Android 4.0 Ice Cream Sandwich handset ViewSonic brought to MWC 2012. It is boxy, but feels nice to the touch, and is available in a number of jolly colors - we handled the white-and-yellow version. The phone is offered with a 3.5" display, which, ahem, is with 640x960 pixels of resolution and 500 nits brightness, like one other 4S phone out there
ViewSonic ViewPhone 4s is powered by a 1GHz Qualcomm Cortex-A9 processor and has a 5-megapixel camera on the back plus a VGA shooter up front. The presence of dual-SIM functionality hints that the ViewPhone 4s aims squarely at the EMEA region, where users are accustomed to save on their monthly bills by picking the best of two carriers' offers.
ViewSonic's
ViewScape 3D UI
overlay on top of Android ICS runs the show, and it was very responsive to the touch, looking great on the 326ppi display. It is essentially a 3D shape that you rotate around to get to the desired screen with widgets, and can add up to 16 of those home screens.
The ViewPhone 4s is a relatively affordable handset for its functions and will set you back less than $499 off contract in June or earlier in Europe, while stateside it will land around August.
Along with the dual-SIM ViewPhone 4s, another 3.5-incher, but with HVGA resolution - the 10.3mm
ViewPhone 4e
- was available for our hands-on demo at Viewsonic's booth, and outside the difference is in the shell colors, as well as the volume keys we have on the 4e, whereas the 4s sports a one-piece volume rocker.
We handled the red variant of the ViewPhone 4e, which is a teen's dream, but the youth market targeting is also visible in the specs - a 650MHz Qualcomm processor, 512MB of RAM and 3MP rear camera. The phone is again in possession of two SIM slots, but runs Android
2.3
Gingerbread instead of Ice Cream Sandwich.
We noticed quite a bit of graininess while navigating the interface, due to the lowly resolution, and the phone didn't feel as snappy as its 4s brother, but still offered a decent entry level Android experience. Its sub-$400 price before carrier subsidies doesn't really justify this hardware, but you get flashy color combos instead. We will be following how the ViewPhone 4s and ViewPhone 4e will fare in the wild when they come around for a review.