Video shows the BlackBerry PlayBook running Windows Phone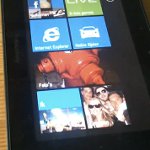 Oh
BlackBerry PlayBook
! There was a lot riding on its back, as it showed off what its QNX-based platform is capable of delivering, but unfortunately, the tablet didn't have a
punch to make a dent in the competitive tablet landscape
. On the other hand, there's Microsoft's baby in Windows Phone, which seems to be doing alright of late
thanks to a trio of new devices
.
Well, as fate would have it, the two are actually intertwined with one another, seeing that one
curious Dutch developer
decided to marry the two. Specifically, he managed to "port" over the Windows Phone OS onto RIM's BlackBerry PlayBook – and for those curious enough, there's even a video to show off how it's running on the tablet.
Interestingly enough, it's not actually a hack that enabled the Dutch developer to do this, but rather, people point out that it's basically running Microsoft's
web-based Windows Phone emulator
within the PlayBook's web browser – with the reading mode enabled. So yeah, it's cool and all, but don't expect to actually see Microsoft even thinking about developing something like this. Instead, we can all look forward to tablets running the full experience with Windows 8 in the near future.
via
BGR